---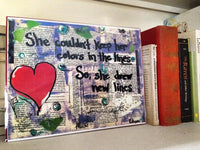 Music teacher, Elexa, of Lexicon of Love hand creates each piece in the shop in Atlanta.
"She drew new lines" is a mixed media original collage and painting on card stock. It is one of the first pieces Elexa ever created as part of her healing process from depression and general anxiety disorder. Folks at Elexa's art show have opened up about how this inspirational quote has been helpful for their children dealing with other mental disorders from bipolar, autism, Asperger's, and Attention Deficit Disorder. Elexa herself is an advocate for the destigmatizing of mental health and walks annually in the NAMI (National Alliance for Mental Illness) Walks.
The original painting shown in the pictures is on canvas and uses sheet music, vintage book pages, acrylic paints, and black sharpie. Prints are packaged in clear sealed wrapping against a hard black card stock with a small artist biography card. Each art piece is personally printed by Elexa on 32 lbs laser print paper and handcut to 8x10 inches for easy matting and framing.
Would you like to buy the canvas version of this art print? Go to: 
Pick 6 prints and save $25, mix and match a selection of currently available art prints to frame: https://lexicon-of-love.myshopify.com/products/sale-music-art-broadway-musical-theatre-gift-disney-lyrics-birthday-gifts-wedding-wall-art-anniversary-home-decor-unique-art-prints
Pick 4 prints and get them for the price of 3, mix and match sizes and color series: https://lexicon-of-love.myshopify.com/products/sale-wall-art-broadway-musical-theatre-gifts-for-her-birthday-anniversary-gift-home-decor-disney-quote-movie-unique-gifts-art-prints
Have a quote or lyric you'd love created in this style? Message Elexa or purchase from this link and send your ideas!